HAD A JUNK "BIG BELTER BLASTER MATCHMAKER", WHEN YOU LIFTED THE XMAS TREE INSERT AND RELEASED IT, THE INSERT ROLLED ON MARBLES THAT RAN DOWN CHANNELS SLOWLY "LIGHTING" THE XMAS TREE LIGHTS... MINE WAS EMPTY...
,..SO I CUT THE TOWER IN HALF, SCRAPPED THE GUTS, REMOVED ALL MOVING PARTS ON THE BELTER'S BASE...DRILLED, AND RAN A 1/4" SHAFT THROUGH THE TOWER, WELDED 2 DOOR SCREW SUPPORTS AND 2 ACCUATOR WASHERS TO IT...
...THE WASHERS ARE OFFSET, RACING LEFT TO RIGHT THE WASHER IS SET FOR RIGHT HANDED STARTERS, RACING RIGHT TO LEFT THE WASHER IS SET FOR LEFT HANDED RACERS...LIKE TURNING A KEY...[FOOSE BALL] ;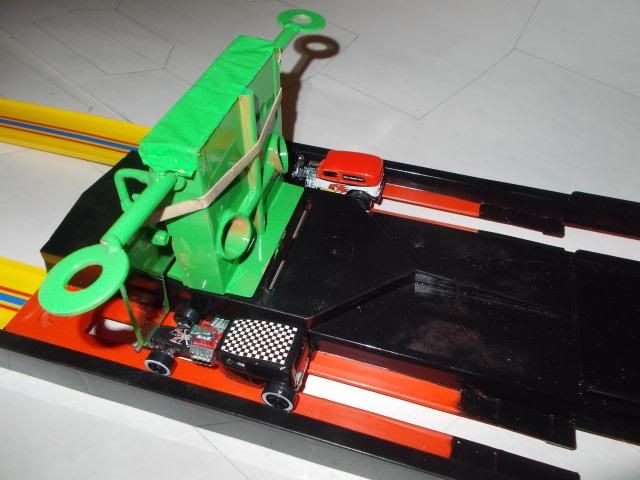 AND THEY'RE OFF !